If you're a seafood lover, you've likely tried your fair share of Italian seafood dishes. From classic spaghetti alle vongole to seafood risotto, there's no shortage of delicious options. However, there are some lesser-known Italian seafood dishes that are just as delicious and definitely worth trying.
One such dish is frittura di paranza, a mixed fried seafood platter that typically includes small fish, squid, and shrimp. Another unique seafood dish to try is brodetto, a fish soup that varies in ingredients depending on the region, but often includes a mix of different types of seafood such as fish, squid, and shellfish.
While these dishes may not be as popular as some of the more well-known Italian seafood dishes, they are definitely worth seeking out and trying. So next time you're in Italy or at an Italian restaurant, don't be afraid to step out of your comfort zone and try something new and delicious.
Jump to:
Importance of Seafood in Italian Cuisine
Seafood is an essential component of Italian cuisine. With its long coastline, Italy has a rich tradition of seafood dishes, and many of its most famous recipes feature fish and shellfish as the main ingredient.
In Italian cuisine, seafood is often prepared simply, allowing the natural flavors of the ingredients to shine through. This approach is especially true in regions like Tuscany and Liguria, where fresh fish is often grilled or roasted with just a few herbs and a drizzle of olive oil. While in Southern regions like Apulia, it's also very common to find fishermen on the seaside offering freshly caught raw seafood like uni and oysters, enjoyed with just a squeeze of lemon juice.
But seafood is also used in more complex dishes, that showcase the versatility of seafood in Italian cuisine and demonstrate the skill of Italian chefs in combining different ingredients to create complex flavors.
Unique Pasta Seafood Dishes
If you're a seafood lover, you might be familiar with Italian seafood staples like spaghetti alle vongole (spaghetti with clams) or risotto alla pescatora (seafood risotto). But have you ever heard of these pasta seafood dishes?
Squid Ink Pasta
Squid ink pasta, or pasta al nero di seppia, is a unique and striking dish that is sure to impress your dinner guests. The pasta is made with squid ink, which gives it a deep black color and a slightly briny flavor. Squid ink pasta is often served with seafood, such as shrimp, clams, or squid, to complement its oceanic taste.
Squid Ink Pasta with Squids and Tomatoes
Black flavorful squid ink pasta dough with a garlicky tomato and squids sauce.
Check out this recipe
Spaghetti allo Scoglio (Seafood Pasta)
Spaghetti allo Scoglio is a simple and delicious dish that highlights the flavors of fresh seafood. It typically consists of pasta, such as Spaghetti or Linguine, tossed with a variety of seafood, such as shrimp, scallops, calamari, and clams, in a light tomato or white wine sauce.
Spaghetti allo Scoglio: A Trip to the Italian Coast on a Plate
A classic Italian seafood pasta, with clams, mussels, shrimp, squid, and fresh tomato.
Check out this recipe
Calamarata
Calamarata pasta is a delightful and visually striking Italian dish that takes its name from "calamari," or squid, due to its unique resemblance to squid rings. This pasta variety boasts thick, tubular, and ridged shapes that are perfect for capturing sauces and flavors. The dish typically features tender calamari rings, which are sautéed with garlic, cherry tomatoes, and a hint of chili for a tantalizing seafood essence. The pasta and the calamari are then combined in a luscious tomato-based sauce that infuses every bite with a burst of Mediterranean flavors.
"Calamarata" Pasta with Squid and Tomato sauce
Ring shaped pasta and fresh squids in a flavorful tomato sauce. "Calamarata" is a dish that it's perfectly delicious any time of the year and any day of the week.
Check out this recipe
Seafood Lasagna
Lasagna is a layered pasta dish that is typically made with ground beef and tomato sauce. Seafood lasagna is a variation that replaces beef with shrimp, scallops, and crab meat. To make it, cook lasagna noodles until al dente, then layer them in a baking dish with a mixture of ricotta cheese, spinach, and seafood. Top with mozzarella cheese and breadcrumbs, then bake in the oven until the cheese is melted and bubbly.
Easy Seafood Lasagna
'Tis the season to eat seafood! Fun fact: Nearly one in four Americans are Catholic. And since Catholics can't eat meat on Fridays during Lent – but can eat fish – that adds up to a lot of fish being sold during this season. Stores all over the country have great sales on seafood, and ... Brows…
Check out this recipe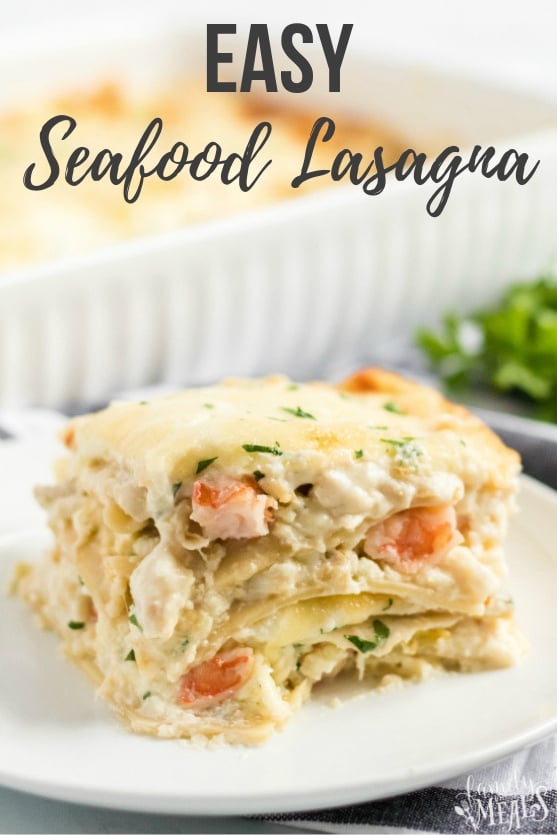 Italian Seafood Soups and Rice Dishes
If you're a seafood lover, you may be familiar with Italian seafood dishes like Linguine alle Vongole or Risotto ai Frutti di Mare. However, there are many other Italian seafood dishes that you may not have heard of. In this section, we'll explore Italian seafood soups and stews that are sure to tantalize your taste buds.
Risotto alla Pescatora (Seafood Risotto)
Risotto is a creamy Italian rice dish that is often made with chicken or vegetable broth. Seafood risotto is a variation that adds shrimp, mussels, and squid to the mix
"Risotto alla Pescatora" - Seafood Risotto
A summery tomato risotto with all the flavors of the sea made with fresh or frozen seafood. Just like you can find on the Italian coast restaurants.
Check out this recipe
Cacciucco Livornese (Seafood Stew)
Seafood Stew, also known as Cacciucco, is a hearty and flavorful dish that originated in Livorno, Tuscany. The dish typically includes a variety of seafood like shrimp, clams, mussels, and fish, cooked in a tomato-based broth with garlic and herbs. The broth is usually made with white wine, fish stock, and tomato sauce. Seafood Stew is often served with crusty bread for dipping into the flavorful broth.
Cacciucco alla Livornese (Livorno-style fish stew) - Italian Spoon
A traditional fisherman's stew that originated from Livorno in Tuscany, Cacciucco alla livornese is jam packed with seafood. Make it with available seafood on the day including calamari, mussels, blue-eye trevalla and red mullet as a guide, this dish is a seafood-lover's dream!
Check out this recipe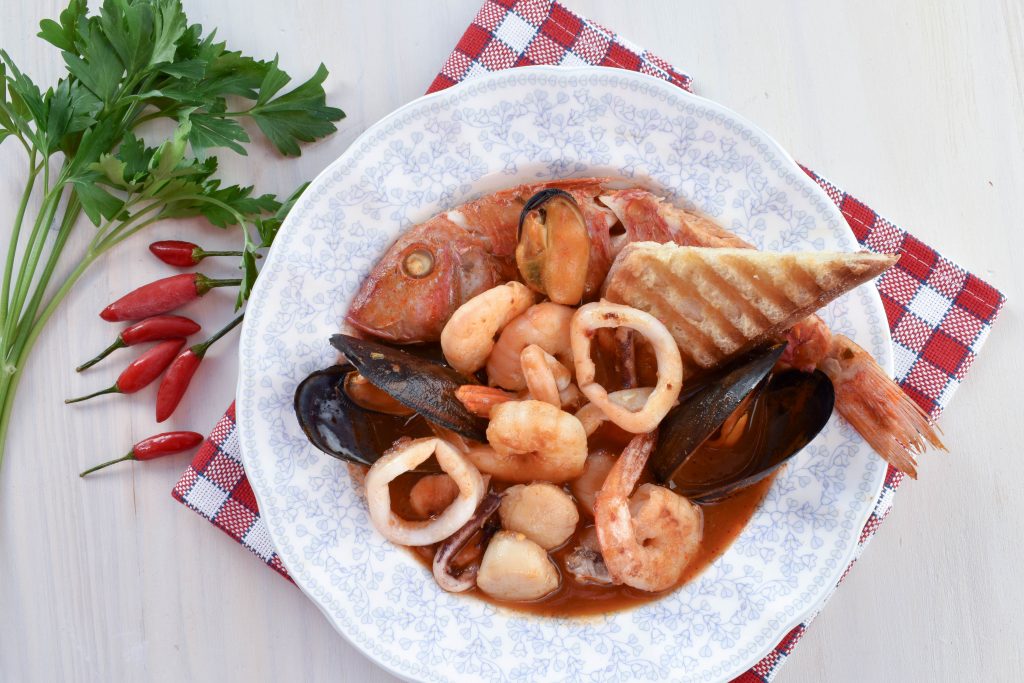 Tiella Barese (Rice, Mussels, and Potato Bake)
Tiella Barese is a traditional Italian dish from the region of Puglia, specifically the city of Bari. Named after the "tiella," a round clay pot used to cook it. The dish consists of layers of rice, sliced potatoes, ripe tomatoes, onions, and sometimes zucchini. Then, generous portions of mussels are nestled in between the layers, infusing the Tiella Barese with the essence of the sea.
Tiella Barese
This rice, potatoes and mussels dish is classic to Puglia. Per the name, its a specialty of Bari, the capital of Puglia. Layers of onions, potatoes, rice, cheese and mussels simmer away to comfort food perfection in the oven. This recipe is so beloved in Puglia because mussels are a regional special…
Check out this recipe
More uncommon Italian Seafood Dishes
Italy's coastal regions have a wealth of lesser-known seafood dishes that are worth trying. Here are a few uncommon Italian seafood dishes that you might not have heard of before.
Monkfish
Monkfish, also known as the "poor man's lobster," is a popular fish in Italian cuisine. Its firm, meaty texture makes it a great substitute for lobster in many dishes. One traditional Italian monkfish dish is coda di rospo alla livornese, which is monkfish cooked in a tomato-based sauce with olives and capers.
Coda di Rospo Alla Livornese (Seared Monkfish)
Kristin Sollenne, executive chef at Bocca di Bacco -- which is opening its fourth location Tuesday (April 8) in Chelsea, stops by The Couch to show us a modern take on old-world Italian cooking.
Check out this recipe

Octopus
Octopus is a staple in many Italian coastal regions, and there are countless ways to prepare it. One traditional dish is polpo alla luciana, which is octopus cooked in a tomato-based sauce with garlic, parsley, and red pepper flakes. Another popular option is insalata di polpo, which is a cold octopus salad with potatoes, celery, and olives.
Polpo alla luciana (Santa Lucia Stewed Octopus)
I love octopus. And in my opinion this iconic Neapolitan dish, polpo alla luciana or Stewed Octopus in the style of Santa Lucia, with is one of the
Check out this recipe
Insalata di Polpo - Italian Octopus Salad - Honest Cooking Magazine
With a few common vegetables and herbs, create a refreshing antipasto salad with octopus that is sure to entice eaters.
Check out this recipe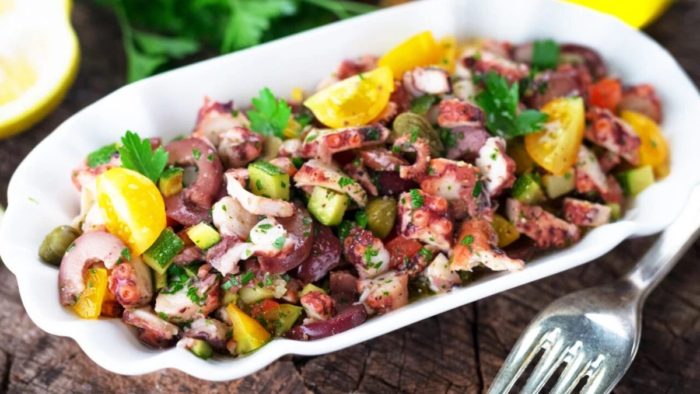 Red Mullet
Red mullet, also known as triglia, is a small, flavorful fish that is common in Mediterranean cuisine. One traditional Italian red mullet dish is triglie alla livornese, which is red mullet cooked in a tomato-based sauce with garlic, parsley, and white wine.
Livorno-Style Red Mullet (Triglie alla Livornese) Recipe on Food52
Although it's not well-known, credit should be given to Livorno's Jewish community for first showing the Tuscans how to use tomatoes in their dishes, and this classic dish is a brilliant example of how it was done. It's still a favorite of Livorno's Jewish cuisine and possibly one of the best ways y…
Check out this recipe
Frequently Asked Questions
What are some traditional Italian seafood dishes?
Italy has a long coastline, which means that seafood has always been a staple of Italian cuisine. Some traditional Italian seafood dishes include:
Zuppa di Pesce (fish soup)
Fritto Misto di Mare (mixed fried seafood)
Cozze alla Marinara (mussels in a tomato-based sauce)
Spaghetti alle Vongole (spaghetti with clams)
Calamari Ripieni (stuffed squid)
What are some seafood Italian dishes that are commonly mistaken as Italian but are not?
There are some seafood dishes that are often thought to be Italian, but actually have a different origin. Some examples include:
Cioppino (originated in San Francisco)
Shrimp Fra Diavolo
Shrimp Scampi
What are some Italian seafood dishes that don't include pasta?
While pasta is often associated with Italian cuisine, there are plenty of Italian seafood dishes that don't include it. Some examples include:
Branzino al Sale (salt-baked sea bass)
Grigliata di Mare (mixed grilled seafood)
Insalata di Mare (seafood salad)
Tonno alla Siciliana (Sicilian-style tuna)